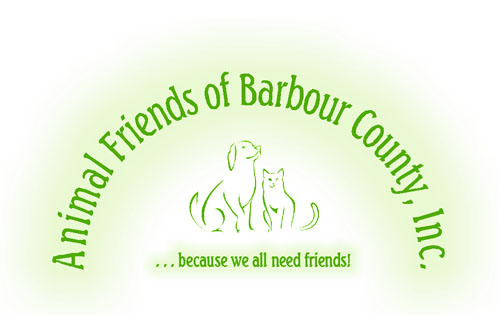 ABOUT US . . .

ANIMAL FRIENDS OF BARBOUR COUNTY is an organization of volunteers who are dedicated to saving the lives of surrendered, abused, neglected and stray companion animals in our rural West Virginia community.

As of July 1, 2012 our organization entered its 11th year of operation.  While we're justifiably proud of the work we've accomplished, we remain focused on the reality of the tasks still at hand.

Each of our volunteers takes pride in knowing that, because of our efforts, and the efforts of our network of rescue groups, thousands of Barbour County companion animals have found homes with families that love and cherish them.

With our dream of having our own shelter facility having become a reality in late 2011, a good deal of our effort during this next year will focus on raising the funds needed to fully equip the facility so that we can provide the best care to the pets that patiently await their chance for adoption.

During 2012, we also plan on working to expand our network of rescue groups, continue our program of spaying/neutering shelter cats and dogs prior to their adoption, focus on working with state legislators regarding animal welfare issues -- particularly in the area of providing low cost spay/neuter services for state residents, and research new ways of obtaining the funding we so desperately need.

We are a non-profit organization (501(3)(c) certified) that relies solely on generous donors, an ambitious fund raising agenda and grant money to finance our operation.  If you would like to help us continue our work on behalf of the animals, please click on the "How You Can Help" link below to get more information.

If you are looking for a "fur-ever" friend, or you are a member of a rescue group that would like to assist us in our efforts to place our animals for adoption, click here to go to our adoptables pets listings on
Petfinder.com.
Our website is updated frequently, so you are invited to browse often.

This page was last updated: February 15, 2013
DONNA SMILARDO

VICE PRESIDENT

KIMBERLY J. DELAUDER

CO-TREASURER

Shelter Physical Address:

23 Valley Bend Raod

Belington, WV 26250

Shelter Mailing Address:

PO Box 452

Philippi WV 26416

Phone Number:

304-823-2012