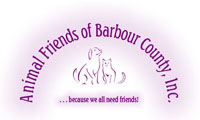 This page was last updated: May 14, 2013
From our first day in operation in 2002 our singular purpose has been to find safe, loving homes for every adoptable Barbour County companion animal that is unfortunate enough to find itself lost, abandoned, neglected or abused. 

For the most part, we are able to place our 'fur kids' in a relatively short amount of time, but others have waited patiently for as much as years until the perfect adopter comes along.

While we find great joy in each and every successful adoption, it's particularly heartwarming for us to see the 'long timers' finally placed in that very special 'forever' home.

Day by day, one by one, young and old, big and small---we send them off to 'home sweet home'.

  Happy people!  Happy pets!

________________

If you adopted a pet from us anytime in the past and you would like to send us a photo or two and a note, we'd love to hear from you.  Submissions can be made by clicking on the button below.

Hi Judy!

Another update on our little Hallie!

I changed Hallie's name spelling so no one mistakes it for Halle (like Halle Berry). It's spelled Haylie now. I have attached a picture of her in her new pink harness.

In fact, I bought both Haylie and her "brother" Max, new personalized harnesses and now they are both "doggie models" for the website that sells the harnesses. I loved the harnesses so much, so I took their picture and included it with a thank you email to the business owner. I got a reply from the business owner and I was asked if she could use their photo for her website. I said "sure". Take a look!

She has been with us for almost 6 weeks now! WOW! Time flies! On Saturday, it will be exactly 6 weeks. She has come a LONG way since we picked her up in WV. She is such a loveable pug! She LOVES to be LOVED!!!! She is a cuddler and a snuggler!

She is still very much a "mama's girl". She HAS to be by my side almost all the time. She does love up on my husband and will go spend some quality snuggling time with him, but when she gets to choose who to sit by or sleep with or walk with.....it's me.

. . . Thank you again Judy, for allowing us to be Haylie's new forever family!

Laurie Schwartz

Our boy, Buddy is off to his new 'forever' home.  We bet he's in for a GREAT life with twin boys to play with and more than enough love to go around!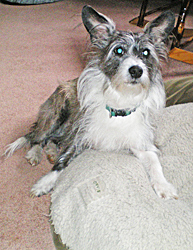 Five years ago a sick, stray puppy was brought to Dot Hayhurst in the hope that he could receive medical attention and then go on to be adopted into a safe, loving home.  Dot spent countless hours nursing Brady (as she named him then), a Jack Russell Terrier Mix, until he was fully recovered.  It wasn't long until the Kertes family chose Brady (now named Tanner) to be their new best friend.

Recently we received this wonderful update from Tanner . . .

Hi Aunt Dottie,

I finally got my dad to take a couple pictures of me today, but he needed help on how to send them. Well he finally got it. I want to wish you a Happy Easter and send my love. Keep up the good work on all my little friends and thanks for saving me.

All my love,

Tanner (Brady) Kertes

John and Karen Kertes also included a note of their own . . .

Dear Dottie,

I hope everything is well with you. It has been a while since I have e-mailed you.

Tanner is doing better than ever, and is spoiled beyond belief.  If you recall, Janice came out to your place and brought back my little buddy to look at, and well, he changed our life. He is loved so much. I wonder if he gets tired of being hugged and kissed all day long. He lays on my lap when I am on the computer and he falls asleep as I hold him. . .  He has his own afghan on the bed with his favorite toys, 2 stuffed animals, Zeek the Squeek, which he runs downstairs with to greet me when I come home from work, and I throw in the back yard while he chases it about 20 times, and when he runs past me into the garage, I know he had enough, then it's upstairs for his Beggin Strips treat. . . .

Tanner could not have found a better home, with anymore love than he has here.  My oldest son Jason comes over with his 2 Pit Bull Terriers---they are so loveable and dumb. Tanner lays on the pillow on the sofa while they play with his toys and lay on his bed.  I think as he watches them and is plotting a way to take them both out. He has so much character. Tanner turned 5 yesterday, and he sends his love for saving him and giving him the life that he fought for.

Thank you for the person that you are, taking care of all the needy, unfortunate guys that need help.

God Bless You,

Love,

John & Karen

Here's an update to a story that appears above about Violet the kitty.  Her mom, Anita, was hoping to reunite Violet with her sister, Daphne.  That reunion has taken place and Anita wrote to tell us about it . . .

I am so happy to tell you that Violet and Daphne have been reunited. Daphne is still a bit shy but is a lovey baby and is coming around just fine. Their late night playtimes are happy rambunctious hide and seeks.---so much that I've referred to them as Thelma & Louise. Daphne has a tiny squeak to say hello while Violet gives a little chirp to greet us. They simply HAD to be TOGETHER!

There is nothing more comforting than the sound of happy thumping paws across the floor, seeing them warm, happy and safe while watching birdies outside, hearing their loud purrs and feeling their warm fluffy bodies next to us on our bed while we sleep.

Can you see the smile on my face? I will stay in touch with updates and pics.

Thank you for all you do for so many furbabies.

Kindest regards,

Anita Nedley

Monty's Journey Home . . .

Monty came to us through the County Shelter.  As a senior fella, we could only hope that someone would look kindly on him and give him a wonderful retirement home.  That time has come, and Monty has completed the first leg of his journey.  We are hoping to hear from his 'parents' once he gets settled in, but we just had to share this part of his story . . .

Hi Carol

Monty is here and I love him! Made him venison burgers for dinner then he went right to the couch for a nap. I think at some point somebody loved him---such a good boy! His new parents are so excited, they will be here first thing in the morning to pick him up. I am so going to cry.

Thank thank you so much for all you did and do.  I will make sure Monty enjoys the rest of his life.

Forrest, who did the transport from MD to PA is awesome and would love to do this more. I would so recommend him!

Take care!

Cheryl with Collie Rescue

This is Monty on the day we took his photo to post on Petfinder.

And this is Monty after his transport trip and a dinner of venison burgers!  What a lucky boy!

We didn't get a photo from Megan's mom, but we wanted to share this note we received . . .

Hey Judy!

I keep meaning to contact you, but we can't get a decent picture of her. We renamed her Isarre, and she responds very well to Isa. She's doing great with the cats, they've seemed to almost fully adjust since having her. Our most timid cat Sam, just bumped noses with her this evening and he and our other cat are sleeping in the living room again.

. . . Alex takes her for a walk everyday and has taken her frisbee golfing once--she loved it and did so well. She's lost quite a bit of weight and is learning a lot of commands. Isa is very smart and is meshing very well with our family. . . She doesn't get upset when other people come into the house, so long as we're here. She's rather calm most of the time, but when Alex gets home she gets the wiggles and slides all over the hard wood floors. Hilarious. She and Alex really have an inseparable bond and we're all very happy together.

. . . If you ever find yourself in Morgantown, please come visit her. She's as healthy and as happy as can be!  As soon as we get a good picture of her, I'll send it to you!

Jenica

And we received this update on Lucky . . .

Hi Carol

I thought you might like to see a recent picture of Monty (now named Lucky)...he looks so happy! His new parents just love him and call weekly with updates. He's doing great...his hair is growing back---can't wait to see him when it all comes back,

Take care!

Cheryl Zimmerman

Wiggles, a Border Collie puppy, was elated to have big sister named Sadie to welcome her to her new home. Sadie was not as sure about this new addition to her family, but we're sure they'll work things out. We wish them all the best and many, many happy years together!

Here is Axel, the former Zach, who was adopted as a puppy. He is five months old now and his new owner, Bob says he is a smart and spunky little guy.

Thank you for your help. Ginger has been great. We are very happy to have her as a part of our family.

Marilyn Calloway

Hi Judy,

Kisses is doing well.  She starts puppy training next week (can't stop her from nipping when she wants to play---which is all the time) and she can really leap (trying to leap up on the counters).  She is probably about 18 pounds. She is going to be smaller than I expected, but she is extremely cute and has a very fun loving personality. She is very smart and a little stubborn. Hope you are well and finding homes for all your animals.

Susan Braun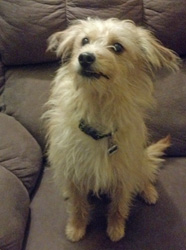 Donna and Ed VanDyke drove from their home in Greensburg, PA to adopt Sandy in July, 2012.  She was one of several pups that Dot Hayhurst had rescued from the person who had them in the trunk of their car in a parking lot and were giving them away.

Donna tells us that "Sandy LOVES her big brother, Charlie! They play all the time, and she loves to play-bite at his back legs and ears so that he will play with her. And Charlie watches out for her and protects her. Our 2 children absolutely adore her!

We think of Amy and Lisa (two of the other pups in the litter) a lot since then, and wish we would have even brought one of her siblings home too!

Donna and Ed Van Dyke

Spike and his new best friend bonded immediately. The Paughs are so excited about brinigng lively Spike home.

Oliver Twist, now known as Toby, cried in his crate every time a person walked by. He so desperately craved attention and affection . Now he has two Pug sisters and two doting humans who are totally charmed by him.  We're glad that all is well in "Pug Land".