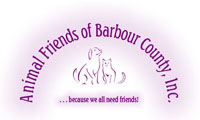 This page was last updated: April 29, 2013
From our first day in operation in 2002 our singular purpose has been to find safe, loving homes for every adoptable Barbour County companion animal that is unfortunate enough to find itself lost, abandoned, neglected or abused. 

For the most part, we are able to place our 'fur kids' in a relatively short amount of time, but others have waited patiently for as much as years until the perfect adopter comes along.

While we find great joy in each and every successful adoption, it's particularly heartwarming for us to see the 'long timers' finally placed in that very special 'forever' home.

Day by day, one by one, young and old, big and small---we send them off to 'home sweet home'.

  Happy people!  Happy pets!

________________

If you adopted a pet from us anytime in the past and you would like to send us a photo or two and a note, we'd love to hear from you.  Submissions can be made by clicking on the button below.

Kathy spotted Diaz's photo on our Petfinder website and immediately fell in love with him.  She had lost her female Rottweiler to illness one year ago, and her resemblance to Diaz was so remarkable that Kathy knew that Diaz was the dog for her, and the smile on Diaz's face says he had no argument with that. So he hopped in the car and headed home to Charleston, looking forward a life full of love and adventure.

Bailey has found her forever home!  Her new family was so excited to meet her, they drove all the way from Uniontown, Pa. on icy roads to bring her home.  We think Bailey is licking her lips in anticipation of the yummy dinners and treats she's looking forward to getting!

Little Fergie was very excited to meet her new family.  It didn't take but a few minutes before she was playing with Derek and Jailyn and had become one of the gang.  We hear that she is bonding well and on her first morning in her new home, she woke up with her tail wagging, ready to play! Have fun Fergie!

Kisses lived up to her name and had lots of kisses for her new family. This beautiful puppy will now have a secure and happy future with her new family.

Update on Tony, now named Copper . . .

Copper is doing amazing here in his new home. He has learned so many new things here, like he was potty trained in a week. He even knows the word "Potty"! Every time we ask him he runs right to the door. He had also learned to sit and shake. Copper is very intelligent. He also enjoys being able to run and play everyday with his brother and sister. There is never a dull moment for him. I swear he smiles everyday since he came home with us. Copper's life started out rough because of Parvo but now he is the happiest dog I've ever seen. We are glad to see him so happy and loved every second of every day for the rest of his life. However Copper "REALLY", enjoyed his Christmas. In fact he loved it so much that all of his toys were ripped within 2 days. Ha ha! He has brought so much life and laughter into this home.

Thank you, Francesca & Copper

We didn't receive any photos from Cynthia, but we wanted to share this note about Misty . . .

Judy,

Just wanted to let you know that Misty is doing great at our house. My boys, husband and other dog all love her. She is very sweet and smart and is also a great listener. We have been spending lots of time outside and have gone on a few walks already. She is sleeping a little more today with everyone back at school. We are all very happy to have her be a part of our family.

Thank you so much for all of the work you do at the shelter, without it we would not have such a wonderful new puppy.

Thanks again, I will send some pictures soon.

Cynthia Tabor

We recently received this note from the Garrison Family to let us know how Diaz (now named Diablo) is doing . . .

We are great! He loves car rides and we snuggle at night! He is so spoiled! He loves everyone at Petsmart and they love him. He has never made a mess or torn up anything! Sometimes I call him Dee for short and minds every word I say! He is truly a gift from God. Thank you for all you have done to bring us together and keep up the good work!!!!

Kipling went to his new home in Richmond, Virginia during a terrific snow storm. It took his new friend Robert, and his friend and sister 9 hours to make the snowy return trip home, but now everyone is safe and settled in, and enjoying a cozy home with a great fenced yard where Kipling can run around to his heart's content. Good luck to you Kipling!

Hi Animal Friends,

I adopted "Bentley" now Kipper in Sept 2011. He was a little boy with a big heart and lots of kisses. When I saw him on your web site I know that he was meant to be my dog. He's the best little boy anyone could ask for and way too spoiled.

Rebecca Collins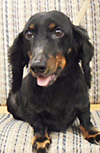 Although we didn't get any photos from Mykia, we wanted to share this note she sent about our boy, Sydney, now named Ozzy . . .

Hi!

Ozzy is doing great! He is getting along wonderfully with everyone. He's a little reserved with strangers, but that's it! He's very protective of our daughter (the 2yr old)!  He had his first visit to the vet and he did great there, except for getting his nails trimmed.  He didn't seem to like that very well. I will send some pics has soon as I locate my camera,

Thanks again!

Mykia Hunt

We recently received this photo from Mykia showing Ozzy with his little best friend . . .

Mykia commented that "Ozzy looooves to tear up pillows!"

It's easy to see he's a much loved fella in his new home!

Our Myra, now named Charolette, is sure enjoying her new life . . .

Hi!

This is Emma again!

It has been about two months and I thought you guys should see Charolette, she hasn't gotten too much bigger but she is still adorable!

Genny met her new family at PetSmart in Uniontown and was very excited to spend some time with the PetSmart the groomer, who placed bows on her ears. Then she got to do a bit of shopping for coats and toys, before she headed home for the beginning of her wonderful, new life. We wish the best of everything to the Freebourn family and their newest member, little Genny.

A few days after Genny went home, we received this note . . .

Hi Judy,

Just wanted to let you know Genny is doing great. She had her first vet appointment today and we scheduled her spaying.  She and my husband love each other, as I knew they would. The cat isn't thrilled but I think she will be fine with a little time. Genny loves all of her new toys, we have so much fun playing together. I feel so lucky that I was able to get her. I hope Jaden finds a good home soon if he hasn't already, he seemed very sweet, too.

Thank you and all the volunteers for the wonderful and important work you do.

Phyllis

Coal's (you folks had named him Brad Pitt) birthday is tomorrow (February 28th). We have had him for 2 years! Love him dearly! Thank you for letting us add him to our family!

Miles has gone off to his forever home. His new family is looking forward to teaching him commands and being entertained by his comical ways. We wish them a long and happy life together!

Our sweet Reba has gone home with her new family. She was very excited and couldn't wait to run on trails and lie on the couch and "chill". It's great to know she's in a safe and loving home at last!

The Clemens family had seen Felix on Petfinder and and made arrangements to come to our adoption event at the Uniontown, PA PetSmart store to meet him.  It was love at first sight for all four members of the family and all were overjoyed to take this little guy home!

A few days after Felix went home, we received this note . . .

"Felix is doing great! He knows how to do sit down, give me paw, and lay down. He responds to his name better and he is doing very well with potty training :)"

It sounds like things are off to a great start and we wish them all many happy, love filled years together!

Francesca sent us a new photo of Copper.  She tells us" he's such a big, goofy dog!"

This little girl couldn't be more overjoyed to have Murphy for a new friend.  And Murphy couldn't agree more. He hopped right in the front seat of his new family's Jeep and rode away into a happy and secure life.

Here's a photo of Felix at home.  We understand he's doing great and has already learned to go to the door when he needs to go out!

Little Bandit, who was discovered wandering in an icy stream, has now gone home with his new family.  How exciting to have a young boy to play fetch with. This sweet little dog deserves all the best and he will definitely have a happy life with his new friends.  We thank the foster family for rescuing him and keeping him warm and secure until we could find his forever home.

We've received this update on Bandit . . .

We are great! I am so pleased with him, we actually changed his name to Buckshot, he is spoiled rotten, sleeping in the beds, laying on the couch. Thank you for allowing me to adopt him, I couldn't have asked for a better dog.

When little Zoot was playing with his brothers and sisters in their pen this morning, he had no idea that he would soon be chosen to be the adored pet of this great couple.  They couldn't wait to take him home and share their life with him.  Have fun Zoot!

Zack, who will now be called Axle, has gone to his forever home. This brother and sister can't wait to start teaching him commands and watching him grow.

Hello Animal Friends of Barbour County!

I just wanted to update you on your lovely cats, Samantha and Marnie, which I adopted after they came to King Street Cats back in November. I know they were at your shelter for 2 years, and that you are probably curious as to what happened to them after they left. Back in November, KSC told me that your shelter had been affected by Hurricane Sandy and they were looking for fosters for some of the cats coming down from WV. I decided to foster short-term, and when I went to the KSC shelter, Marnie and Samantha were the 2 cats in the carriers that stuck their little paws out, so I blindly took them home without really seeing them or knowing their backgrounds. I planned to keep them for 1-2 months, until Christmas or New Years when they could find permanent homes. We even had a friend who met them and said that she would adopt them permanently when we were ready to give them up. But as the weeks went by, Marnie's little meow-trill, affectionate leg-rubbing, and cute little prance became more and more endearing. Samantha's playful energy, outgoing personality, and constant interest in snuggling up on my chest with her feet up in the air, were far too adorable to give up. So I decided to adopt them, and they are now my permanent buds :) They are completely at ease in our home now and have their little rituals which we love. At night, Samantha sleeps curled up in the crook of my neck, and Marnie loves to sleep on the clothes at the foot of the bed. They greet us at the door every time we come home, and are affectionate, wonderful ladies. Between the three of us living here, someone is usually always home to play with them, or give them affection (sometimes more affection than they're interested in!). We love them dearly and are so happy to have welcomed them into our family. I'm attaching some pictures of the two in our home.

Thank you for socializing them so well, and making them the great cats that they are.

.

While we didn't receive a photo of Payton along with this note, we still wanted to share it with you . . .

Hi Judy!

Payton is doing very well adjusting here! She's already learned a few tricks and we've been working on walking on a lead without pulling and potty training her. She's a really smart, sweet dog and loves to cuddle! She has been a little aggressive towards my other dog so we just watch them closely and have been trying to get Payton not to jump on strangers. Other than that I am really happy with her and she is making a great new family member! Thanks for your help in finding her!

Hannah