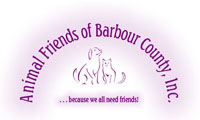 From our first day in operation in 2002 our singular purpose has been to find safe, loving homes for every adoptable Barbour County companion animal that is unfortunate enough to find itself lost, abandoned, neglected or abused. 

For the most part, we are able to place our 'fur kids' in a relatively short amount of time, but others have waited patiently for as much as years until the perfect adopter comes along.

While we find great joy in each and every successful adoption, it's particularly heartwarming for us to see the 'long timers' finally placed in that very special 'forever' home.

Day by day, one by one, young and old, big and small---we send them off to 'home sweet home'.

  Happy people!  Happy pets!

________________

If you adopted a pet from us anytime in the past and you would like to send us a photo or two and a note, we'd love to hear from you.  Submissions can be made by clicking on the button below.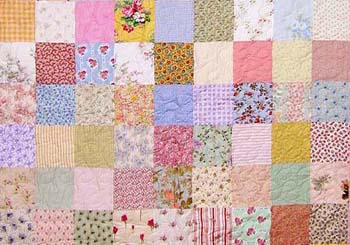 Our little Penelope survived Parvo as a young puppy. That big smile on her face tells us how happy she is to be going home where she's going to be Emmie's new best friend!

And not too long after Penelope went home, we received this note updating us on how she was getting along . . .

She is adjusting really well. She gets along fine with the cats. Sparky took a little while to warm up to her, mostly ignoring her yesterday but today they are playing. She is the best little dog. Really well behaved, listens already and doesn't chew on anything but her toys. She evens goes out to pee when you tell her to. She slept the whole night on the new bed we got her. She didn't travel well---vomited 4 times before we got home, but other than that we are doing great. The kids love her already.

Tiffany

Sambo had been patiently waiting for several years before Tina spotted him on our Petfinder website.  She has been taking care of a senior dog who has medical problems and she has a young adult dog also. When she saw Sambo's photo and read his story, she felt she could give him the home he deserves for as much time as he has left. Judging from the photo, it looks as if he's already gotten quite comfortable in his new home.  This has been like a miracle to us, and we are so grateful to Tina and her husband for reaching out to this old boy.

Over the years that Janie was waiting for her forever home, she became one of our favorites, so we were thrilled when Bret came along to take her home.

We were thrilled to get this photo and update from him shortly after he adopted her . . .

Janie is doing amazing! She pays no attention to the other animals. I'm not sure she understands she is one of them. She is a very well adjusted fur baby. She seems to be fully house trained; As well as, incredibly quick learning. She plays adorable and pouts, it's to cute.  It's as though she's been here forever and has a routine. I'm always glad to support Animal Friends of Barbour Co. I'm a huge advocate for Janie's breed type and appreciate the attention your organization gives them. Thanks again for saving my Sadie in the past and helping make this match with Janie. I woke her for the pic, she wasn't happy...

Sincerely,

Bret

This page was last updated: December 12, 2017
Sweet Sasha is so lucky to have found the perfect home with Gary and Jaye. We thank them, and our friend Meredith, for bringing us some much needed supplies for our cats and dogs.

Hi, Judy!

I wanted to email you earlier but it's been a busy week so far. Shasta, now named Midge, is doing very well in her new home. She is right at home on the couch and in the yard. Midge is loving on the grandkids in her family, and the whole family is so very happy to have her. She's had some accidents in the house but Gary and his wife, Jaye, remain unfazed. They are smitten with her. Midge is the perfect pup for her family. We all thank you again for everything, especially your hard work and dedication to these sweet animals. I'm including a few photos of Midge with her family.

Hello all,

Wanted to share Clyde's latest make his owners laugh out loud story.  He was waiting for me to get him his bedtime Cheerios the other night. I keep Cheerios for dog treats in a small container which makes it more  convenient than having to open and close the box of cereal. I thought the  cabinet door had closed, but for some reason it stayed open.  I  turned around  to see Clyde with his nose inside the cabinet trying to drag out the box of cereal.  He continues to amaze us with his ability to adapt to being a spoiled house pet.  He has now mastered climbing into one of the recliners in  the living room.

Pretty soon he will have his own spot in each room of the house!

Had to forward this shot of Hannah, our first rescue from your shelter.  It appears she sometimes thinks her "babies" need a drink.  Yes, she carried all those toys  to that spot by herself.  Her body language seems to be saying, "I don't know anything about this situation."

We love our furkids.

Kathy Smock

Stetson had lived his entire life chained up outside.  We could only have dreamed that he'd be adopted by such a wonderful couple who are anxious to give him the kind of life he truly deserves.

He loves riding around the grounds of the 800 acre resort where he's living with his new mom and dad who are caretakers

And he's obviously enjoying the much more comfortable sleeping arrangements!

Our boy, Zuke, now named Duke, has gone off to his happy "forever" home, and we got this note and some photos to let us know he's doing well.

Good morning,

We love our new family member. He is unsure of inside steps. But is doing good loves car rides.Not sure about toys and being inside.But I'm sure with a lot of love we will all be fine .

Thank you again ,

Mary Hughes Riley

When Susie saw Calvin's sweet face on our website she knew he was the perfect dog for her. And Calvin must have felt the same thing because he didn't hesitate when the time came to jump into the car for the long drive to his new home.

Rooney had only been at our shelter for two nights when Kata and her dog, Presley, chose him to be part of their family. What a lucky boy!

Jersey was one happy girl when she got in the car to go home with her new family that includes not only a human brother to love her and play with her, but a doggie companion as well!  Jersey waited a long time for this happy day.  and we think she will feel her  wait for her forever home will have been well worth it!  We wish them all many happy years together!

Mary sent us this update on Duke . . .

Good Morning,

I wanted to give you a update on Duke.  He is really fitting in.  He let's you know when he has to potty---you just have to pay attention.  He was out of his crate last night all night for the first time, and he did really well with that.  We go for walks and when we're at work we leave a TV or radio on for him. I'm so glad we rescued him.

Thank you,

Mary Hughes Riley

Rob and Kim had decided to add another dog to their family and when they saw our Lucy Lou on Petfinder, they felt sure she'd be the one to best fit in.  Sure enough, when they met her they couldn't wait to take her home.  Looks like she's settling in nicely!

Kim has sent an update letting us know that Lucy Lou, now named Bella,is continuing to do well.   From the photo, it appears that choosing which toy to play with was just too much of a dilemma for Bella, so she decided to sleep on it!

Rooney, now named Elvis, seems to be settling in very nicely with his brother, Presley.

Clever naming dontcha think?  Elvis and Presley!  Gotta love it!

Our Rachael, now named Dayzel, looks to be very much loved in her new home!

Hi,

I just had my third birthday!  This year for the first time I ate my cake and ice cream.  It was so good!  Then I got to open presents- I liked this lion the  best

I am getting older because I have some gray hair showing up.  Mom says not to worry; I am going platinum not gray.

I went swimming yesterday and today something that I am very good at and I love it.  They throw my ball in and I swim out and bring it back.  It is so  much fun.

We hope all is going  well at the  shelter.

We hope you find good homes for all your dogs.

Thank you for all that you do.

Schnel, Jeanne and Tom