VOLUNTEERS URGENTLY NEEDED!!

Animal Friends is in desperate need of volunteers to help with all phases of our operation. Volunteer workers are needed at our shelter facility on Valley Bend Road in Belington to help with feeding the pets, cleaning kennels, walking the dogs, playing with the kitties, and assisting with adoption days. We are also looking for volunteers who would be willing to drive the pets to meet up with the rescue groups that have homes for our pets.  Foster families are needed to give temporary homes to dog, cats, puppies and kittens awaiting their chance for adoption.

You don't need a lot of time or any special qualifications to help us help the dogs and cats waiting for homes.  You don't even have to work with the animals.  Just a few hours a week can make a tremendous difference in the life of a lonely animal that longs for human attention.

For more information about volunteering with Animal Friends, inquire via e-mail by clicking on the e-mail button below. You may complete and submit a Volunteer Application by clicking on the application button below.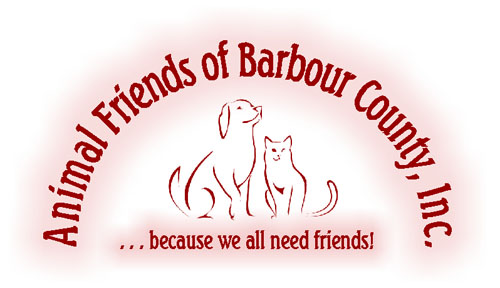 WHAT SHOULD I DO RIGHT AWAY

IF I LOSE OR FIND A PET?

Losing your own pet or finding a stray puts most of us in a quandry, but one step you can take immediately can make a world of difference in getting your pet back home safely or reuniting a missing pet with its family.  Notify both the County Animal Shelter (304-823-1065) and Animal Friends (304-823-2012) right away.  Give as much information as possible about the pet and, if you can, get a digital photo and send it to us, as well.  This way, people will be on the lookout for that particular pet.  We'll also list the pet on our Lost and Found Pets page, so check that page right away, too, to see if the pet is already listed there.  Rest assured that we will work with you to find your pet or find the rightful owner of a stray.  Click on the button below to send information/photos to us about lost or found pets.

LET'S TALK ABOUT PET ADOPTION!

Adopting a pet means you're making a lifetime commitment to a living, breathing creature that will depend on you for its very existence.  If that statement sounds sobering, it's intended to---pet adoption is not something that should be undertaken on the spur of the moment.  Our shelter, and shelters all around this country are filled with unwanted pets that might not have wound up at a shelter if more careful consideration had been given to the wisdom of adopting a pet in the first place.

Especially in these difficult economic times, consideration must be given to your financial resources.  Any way you look at it, pets cost money---usually more than you initially expect.  If the family budget is stretched to the max before you bring a pet (or additional pet) into your home, you shouldn't be looking to adopt. 

Your financial situation is just one thing to think about if you're looking to adopt a pet.  There are many other considerations that will determine whether adopting a pet is a smart decision for you and your family.  Our volunteers are ready to help you not only pick out the perfect pet, but also whether adoption is the right thing to do.

Call us (304-823-2012).  We'll be happy to talk with you.

This page was last updated: April 7, 2016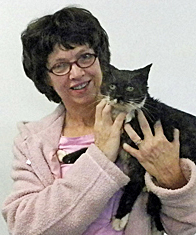 THERE'S A HOME FOR EVERY ONE!

It is true that there is a home for every cat and dog. No matter how much special attention they might need, or how feral, eventually they all find a home. Today was Cage's day. Cage came to Animal Friends of Barbour County in 2010. He was a mess. From day one he had skin issues. . His hair came off in patches, he had bumps all over his skin and he got ringworm  repeatedly. He  had been a feral cat picked up by volunteer Joy Reed in the Arden area, but he was loving and sweet, if not a little shy around us humans

From the time he arrived in 2010 until today this sweetheart of a cat never lived outside of a cage. He just had too many health issues to be in a free roaming room. He was let out to exercise, but most of his time was spent caged and sleeping.

He developed severe gum issues and it was difficult for him to eat. Eventually all of his teeth were pulled and his gums did clear up. But the skin issues persisted. He was put on a regimen of bathing and dipping and steroids and just recently thanks to the loving attention of volunteer, Kim DeLauder, his skin issues finally cleared up and he was approved for adoption. A wonderful angel named, Joy, picked up Cage today and took him home (see picture). There was never a more deserving cat than this one. He suffered for years, caged, hurting and depressed. But the volunteers at our shelter didn't give up on him and it's paid off just in time for a wonderful holiday gift for all. We couldn't be happier knowing that Cage will sleep tonight for the first time with a human that loves him. Given the loving snuggle bug that he has become, I'm sure both human and cat will be delighted. Thank you Joy for rescuing Cage and God Bless You.


In Loving Memory . . .

On December 31, 2014, our resident cat Squeeky crossed the rainbow bridge.  Squeeky came to live at Animal Friends about three years ago after being abandoned in an empty house after his owner was put into a nursing home.  Squeeky was adopted quickly by a family in Morgantown, but was returned due to weight loss. We then discovered he suffered from renal problems and was put on a special diet for kidney failure while awaiting adoption. This effort helped Squeeky live another few years.  Even though Squeeky was never adopted again, he was loved by the volunteers and they made the shelter his home. He had several beds in the lobby and kitchen, and would alert the volunteers when he wanted to go visit the cats in the free roaming rooms. He would greet our visitors, and kept track of the goings on from his tower on the desk. He loved when a volunteer would lay their jacket on the bench, and claimed it as a new bed until they had to leave.  Squeeky was much loved, and his absence will be felt by us all.

In his honor, the volunteers are having him cremated. A tree will be planted, and his memory will grow and remain with us forever.  Squeeky was one of the 24 cats that have been living out their lives at our shelter.  While we hope and pray that each and every one of them will be adopted into loving homes, they know we will cherish and care for them for as long as they live.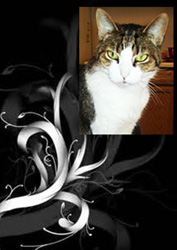 WE WOULD LIKE YOU TO KNOW . . .

In the year 2015,  Animal Friends of Barbour County found new homes for more than 300 cats and kittens and 600 dogs and puppies. These numbers are even more impressive when one is made aware of the massive effort required to find homes for these animals. The two main channels for rehoming are through adoptions and rescues.

For the cats and kittens, rescues are not a great option. Many rescues take dogs but not cats. Our volunteers have driven as far as Florida, Connecticut and Massachusetts to bring cats and kittens to rescue organizations that will find them good adoptive homes. But each rescue has many requirements which are quite costly, including blood work, expensive vaccinations, and health certificates. We are not reimbursed for any of these and we do not receive adoption fees.

So for cats and kittens, the better option is adoption. Donna, one of our tireless volunteers, takes cats to Petsmart in Uniontown every Saturday. She has done as many as 17 adoptions in one day. This is a great adoption opportunity for our cats, and it also gives us a partnership with Petsmart so that we can receive donated items through the store.

Of course we also find adopters locally and through the online site PetFinder.com .Just go to our homepage at www.afobcwv.org and click on Adoptable Cats. Most of our available cats are listed here with photos and short descriptions.  All our cats and kittens are vaccinated and tested for leukemia and other diseases and the adults are spayed or neutered. Last year we had over 200 adoptions of cats and kittens.

For dogs and puppies, out-of-state rescues are an important option for finding homes quickly. In the year 2015, we took 790 dogs and puppies into our shelter. Of these 534 went to rescues and 110 were adopted directly from our shelter. Once again, as with the cats, many rescues do not reimburse us for the required vetting and health certificates. We are fortunate to have partnered with a new organization in Virginia, Animal Friends, Virginia, to help us find foster homes and eventually good adoptive homes for our dogs. We are hoping to expand this partnership to include cats in the future.  We do receive reimbursement from them as well. We are also fortunate to have a connection with a wonderful group from Connecticut who came to our shelter during Hurricane Sandy with a truckload of supplies for the dogs and cats and with space to bring back many pets to their shelter. Periodically they take dogs and cats from us and find wonderful homes in New England.

The local adoptions are our great joy, as we can meet the adoptive families and be part of the happy endings. Aside from West Virginia adopters, we have had people come from as far as Minnesota, North Carolina, as well as all of the surrounding states, to adopt our W.V. "muttineers". All our dogs are up to date on vaccines.  Once again, all the available dogs and puppies are listed on the Petfinder website.

We are always amazed by the huge amount of stray dogs and cats in our county. We have had as many as 101 dogs at our shelter and over 150 cats and kittens. Despite the adoptions and rescues, this number remains fairly constant. The Barbour County Animal Shelter also has had up to 25 dogs at one time. This is due in large part to the total disregard of the importance of spaying and neutering to the health of the individual animals and the health of our communities.

We have seen some horrifying results of this cruel disregard for animals. Jewel and her 4 puppies came to us a little over a month ago. They were found under an abandoned house, and fortunately neighbors became involved to save them.  She was so emaciated and dehydrated, that she looked like a skeleton. Her puppies were plump and well fed, but she herself was totally malnourished and weighed only 28 pounds. Gradually she has been gaining weight and becoming more spirited. She is a wonderful dog and did not deserve this horrible neglect.  She has been transported to a foster home in Connecticut with her puppies to continue to gain strength and to find their forever homes. Her "before" and "after" pictures are seen here.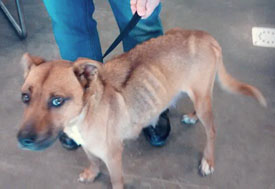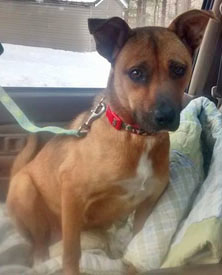 This neglect and cruelty of innocent animals who depend on us, will only end when spay/neuter laws, licensing laws, limited tie-out laws, and dog breeding regulations are created and enforced. The volunteers of Animal Friends of Barbour County invite all animal lovers to join our organization and help us create a safe environment for these helpless animals.

If you are interested in volunteering you can leave a message on our voicemail at 304 823-2012 or fill out a volunteer application on our website (www.afobcwv.org). If you are interested in adopting a dog, call Judy at (304) 457-1419 and for cats call Donna at (202) 316-1093. To report animal neglect or abuse, call the Comm. Center at (304) 457-5167 or Dennis Burner at the County Shelter, (304) 823-1065.

                                                                                               Article by Judy Braunsberg