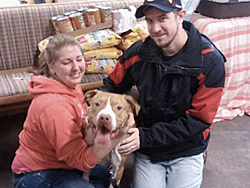 BECOME ONE OF OUR 'FABULOUS 500' FRIENDS

JUST $10.00 A MONTH . . .

Yes, just $10.00 each month from folks like you can help us by reducing the

amount of time we have to spend on fund raising activities!

With our limited number of volunteers and the increasing burden of hands-on time needed to care for the animals, fund raising, while a necessary function, is tremendously time consuming. 

We're looking for 500 FABULOUS FRIENDS who will help us with a $10.00 per month for 12 months donation.  Donations made by check can be sent to PO Box 452, Philippi WV 26416 or if you'd prefer to enroll in an automatic monthly donation program via PAYPAL, you can begin your enrollment by clicking on the button below.  You DO NOT need a PayPal account to use this feature.

YOUR SUPPORT FOR OUR 'FABULOUS 500' FUND RAISER WILL BE APPRECIATED MORE THAN YOU KNOW!

(All donations are tax deductible)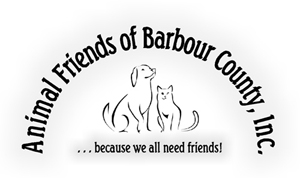 YOUR DONATION TODAY WILL HELP US CONTINUE

TO CARE FOR THE PETS TOMORROW!

Shelter Physical Location 

320 Valley Bend Road

Belington  WV 26250

Phone Number:  304-823-2012

Mailing Address

PO Box 452

Philippi  WV  26416

about shelter hours

PETSMART

ADOPTION DAYS . . .

Although the schedule varies occasionally, we will be visiting the Uniontown, PA PetSmart store every Saturday from 10:00 am - 8:00 pm with cats and kittens.

GET READY TO COME MEET YOUR NEW FELINE BEST FRIEND!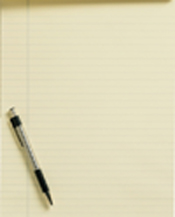 OUR "WISH LIST"

PLEASE click the button

below to check out our

"Wish List" of the supplies, equipment and labor you might be able to donate to help us

take care  of the

shelter pets.

THANK YOU!

  ATTENTION

PET OWNERS!

Animal Friends works with two vets,  Audubon Animal Clinic in Philippi, and Appalachian Animal Hospital in Elkins, who honor our discount vouchers to assist with the cost  of spaying and neutering cats or dogs.

For more information or to obtain a voucher, call Diane and leave a message if she is not able to answer.

                                                                304-614-9022

Your call will be returned!

ARE YOU PLANNING TO

ADOPT A PET?

Please take a few moments to read the

HOME SWEET HOME!

What's the best day for our shelter volunteers?  It's the day when one of our 'fur kids' goes "Home Sweet Home"!

Cain, now named Hulk, waited patiently for several years before his forever family came along to take him home.  The expression on his face tells us that it was all worth the wait!  That's one HAPPY boy!

This page was last updated: January 2, 2018
WEBSITE DESIGN BY ANIMAL FRIENDS OF BARBOUR COUNTY

2017

WAYS YOU CAN HELP US . . .

Are you an Amazon Shopper?

If you are, check out Amazon Smile!

Same great products as are on Amazon,

but every time you shop thru Amazon

Smile, Amazon makes a donation

to us!

information.

Please note---enrollment in the Kroger's program expires after one year.  For info

about renewing your enrollment, click on the link above.

Check out our Wish List (below) for

items you can donate

Click on any of the underlined items listed to get more information.

LET'S STAY IN TOUCH!

We want to be able to keep you informed about things that are going on with us---either by email or regular mail.  Many of you are already in our database, but if you've changed your email address, or your mailing address has changed, please let us know.  And if you would like to be added to our contact list, it's easy to do.  Just click on the button below to send us an email to add your name to our database or update your information.  In the subject line please state "Mail Update" and be sure to let us know if you prefer us to contact you by email or regular mail.



ADOPTING

SHELTER PETS WITH TRUST ISSUES

Shelter pets that exhibit shyness on meeting new people are very often overlooked for adoption, but people who are willing to invest some time and patience with these pets are rewarded with a lifetime of love and loyalty.

Click here
to read one woman's account of just such an adoption.   Plus an update added on March 20, 2016.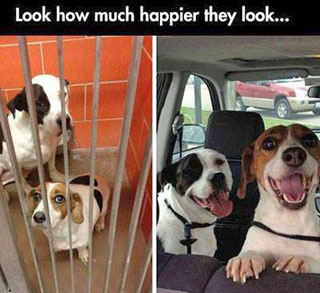 MAKE SOMEONE SMILE TODAY!

ADOPT A PET!!


For more information about our adoptable pets, or to

OUR DREAM HAS COME TRUE!

In the Fall of this year one of our biggest, long term goals was finally b achieved! Construction of the Cat Paws Playground was  completed and is being enjoyed by kitties who desperately need this safe environment to play, exercise and socialize. 
Click here
to read the full story.
ADOPTABLE PETS. . .

Can you help us find our "forever" homes?

Ariel, Female Pit Bull,

3-4 Years Old

Howie, Male Black/Tan Coonhound,

8 Years Old

Darby, Female Shepherd/Boxer Mix,

8 Months Old

Tiana, Female Domestic Short Hair,

6 Months Old

Carly, Female Shepherd Mix,

2 Years Old

Thank you Jamie Queen, owner of Wet Nose Photography in Buckhnnon WV, for getting these gorgeous photos of our adoptable pets!

wetnosephotoswv.com

304-940-0149

Fergus, a Mountain Cur, is an energetic and playful boy despite his 10 years. He gets along with other dogs and is friendly to people once they are no longer strangers. Fergus has been in our shelter for several years, probably due to his age, but he truly deserves to spend the rest of his life in a real home. We know he would blossom with the love and attention he would receive there. Fergus weighs 50 pounds and has every potential to be a wonderful and loyal companion. He enjoys treats and food and this would truly be a way to win his love!

Meet Jinx and Ludo!  Jinx is 4 years old and he weighs 17 pounds, and his buddy is a gorgeous 5 year old, 12 pound fella.  They've never been separated and would love to be able to stay together.  They're fully vetted (including neutered) and get along fine with other kitties.  At one point, they lived and got along with dogs, too, but it's been awhile since they've been around dogs.  These are two of the sweetest, most affectionate, and happy cats you'd want to meet.  According to their foster mom, Ludo is a talker and both boys love to cuddle.  We're sure Jinx and Ludo will bring tons of joy to the lucky family that adopts them!

Hoot, Male Tabby

6 Months Old

Julius, Male Domestic Short Hair

12 Weeks Old

Bridget, Female Calico,

18 Months Old

Animal Friends float takes "Theme" award

in Annual Philippi Christmas Parade!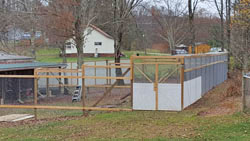 NEW YEAR---BIG NEWS!

For years our shelter has struggled with the overpopulation of cats in our area that wind up coming into our facility.  On an average day we care for 200 cats---taxing the capabilities of our volunteers to maintain the cats' health and a healthy environment for them, not to mention the financial burden on our already strained budget.

In 2016 Animal Friends volunteer, Kim Delauder, began working with representatives from the North Shore Animal League to help us find rescue shelters that would take our cats and kittens on a regular basis to facilities in other states where they could more readily find homes.  The arrangement worked out well and in December of 2017, North Shore Rescue Coordinator, Karla Agostinello, named us as their official West Virginia Shelter partner.  This means we will have a reliable source of rescue for our cats and kittens.  We are very grateful to North Shore for their confidence in us and look forward to long working relationship with them.

To read the full story about our partnership,
click here
to view the North Shore blog page.
And through this partnership with North Shore, we are ecstatic to announcethat twenty five of our precious kittens have been chosen to participate in the HALLMARK KITTEN BOWL V, scheduled to be aired on Super Bowl Sunday, Feb 4th, 2018 (check your local TV listings).  The Kitten Bowl features kittens from several shelters participating in various "competitions", as well as video clips of the featured shelters and their volunteers. 

It's going to be a great day for our shelter and we hope

you'll join us to watch this special event!