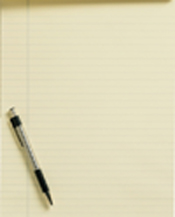 Shelter Physical Location 

23 Valley Bend Road

Belington  WV 26250

Phone Number:  304-823-2012

Mailing Address

PO Box 452

Philippi  WV  26416

General Email Address

Animal Friends

Marble Tile Fundraising Campaign. 

We now have an 'easy access, pay

by credit card' order form!

OUR "WISH LIST"

PLEASE click the button

below to check out our

"Wish List" of the supplies, equipment and labor you might be able to donate to help us

take care  of the

shelter pets.

THANK YOU!

HOME SWEET HOME!

What's the best day for our shelter volunteers?

It's the day when one of our 'fur kids' goes "Home Sweet Home"!

It's hard to tell who has the biggest smile---Cheryl France or her new best friend, Valentine!

This page was last updated: January 26, 2015
WEBSITE DESIGN BY ANIMAL FRIENDS OF BARBOUR COUNTY

2015


PETSMART

ADOPTION DAYS . . .

Although the schedule varies occasionally, we will be visiting the Uniontown, PA PetSmart store every Saturday from 10:00 am - 8:00 pm with cats and kittens.

Dogs from 10:00 AM - 4:00 PM

GET READY TO COME MEET YOUR NEW FELINE BEST FRIEND!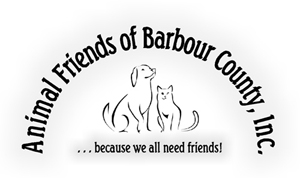 YOUR DONATION TODAY WILL HELP US CONTINUE TO CARE FOR THE PETS TOMORROW!

In Loving Memory . . .

On December 31, 2014, our resident cat Squeeky crossed the rainbow bridge.  Squeeky came to live at Animal Friends about three years ago after being abandoned in an empty house after his owner was put into a nursing home.  Squeeky was adopted quickly by a family in Morgantown, but was returned due to weight loss. We then discovered he suffered from renal problems and was put on a special diet for kidney failure while awaiting adoption. This effort helped Squeeky live another few years.  Even though Squeeky was never adopted again, he was loved by the volunteers and they made the shelter his home. He had several beds in the lobby and kitchen, and would alert the volunteers when he wanted to go visit the cats in the free roaming rooms. He would greet our visitors, and kept track of the goings on from his tower on the desk. He loved when a volunteer would lay their jacket on the bench, and claimed it as a new bed until they had to leave.  Squeeky was much loved, and his absence will be felt by us all.

In his honor, the volunteers are having him cremated. A tree will be planted, and his memory will grow and remain with us forever.  Squeeky was one of the 24 cats that have been living out their lives at our shelter.  While we hope and pray that each and every one of them will be adopted into loving homes, they know we will cherish and care for them for as long as they live.

ATTENTION

BARBOUR COUNTY

PET OWNERS!

We now have discount vouchers available to assist   county residents having  limited income with the cost  of spaying/neutering their pets.

For more information or to obtain a voucher, call the shelter at 304-823-2012

and leave a message.

Your call will be returned!

URGENT!  OUR SHELTER CATS NEED YOUR HELP!  CLICK HERE FOR DETAILS!
ARE YOU PLANNING TO

ADOPT A PET?

Please take a few moments to read the

NEW!  NEW!  NEW!

Now you can make regular, recurring

donations to Animal Friends

via PayPal---even if you don't have a

PayPal account.

It's quick and easy to sign-up!

It's difficult to understand why some dogs are chosen for adoption just days after they appear on the website, and others wait patiently for years. Dude is one of those waiting dogs. He came to us when he was 18 months old, surrendered by his owner who could no longer care for him. He is the last remaining dog who was with us before our new shelter was built. Hundreds of dogs have come and gone to adoptive homes and rescues since then, but sweet Dude remains. Many dogs have shared his pen, and he has gotten along well with all of them. He is a gentle and kind dog, who loves to walk outside on a leash, or run around in the fenced yard. Dude has recently shared his pen with a very active and aggressive female, and we all agree that he is the only dog in the shelter who could put up with her antics. He would be a wonderful family dog, and seems to be good with children. Surely, such an outstanding dog deserves a home of his own. Please don't let him wait any longer!

Should you adopt a shelter pet?

Just ask these happy dogs and cats!  They'll tell you it's a GREAT idea!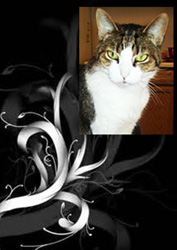 Todd is one of the 20 plus cats that have been long-term residents at our Shelter.  He and the other adult cats often get overlooked for adoption simply because they're not cute little kittens, but Todd is a real charmer.  He's smart, too!  On one of his trips to an adoption event at the Uniontown PetSmart store, he figured out how to open all the windows to the other cat cubicles so he could run all through them!  What great fun he had that day!  He has a sister named Thyme, who needs a home too---she's a bit shy.  Todd is a wonderful, fun loving boy who will be a truly wonderful family companion.  All he needs is someone to choose him for their very own best friend!

For more information about our Featured Pets or to make arrangements to meet them, call 304-823-2012 or email animalfriendsweb@yahoo.com